The Promise
You can have what you really want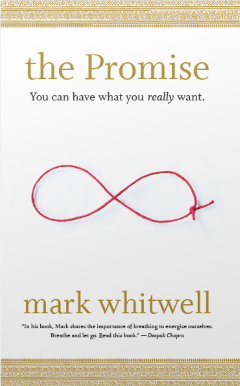 You can change your life in just seven minutes a day . . .
A soft message for a hard time, The Promise is a simple yet profound solution to the cause of all human discontent: the lack of intimacy, especially sexual intimacy. Even amidst the plethora of techniques now available for so-called enlightenment—from meditation and visualization to intensive prayer retreats or obsessive exercise regimens— the need for intimacy has been left unsatisfied.
Requiring just seven minutes a day, the practice taught in this book—called "Your Seven-Minute Wonder"—answers that need by opening the body and psyche to gratifying levels of personal and sexual intimacy. It is the practical means that allows you to tangibly realize your ideals and inherent perfection. Renowned teacher Mark Whitwell, who has spent a lifetime studying the secrets of life with the great masters, has seen through to the heart of their understanding, and created a simple way for readers to acquire it for themselves.
"Your Seven-Minute Wonder" is a physical practice— a combination of healthful breathing sustained by synchronistic body movement. Its purpose is to be uplifting and totally functional: a dynamic interflow of "inspiration" or inhalation (receptivity), with the "expression" or exhalation (strength). This in-and-out breathing cycle, which Mark carefully delineates, activates the deep male-female polarity within each of us, regardless of gender.
The practice is effortless for everyone, and practitioners report that their well-being, vitality, sexuality, self-awareness, and true desires are awakened immediately and dramatically. It restores health and dignity, and sex becomes utterly relevant to a graceful life. Further, as you become receptive to your breath—the basis of all human function—you become responsive to money, power, and collaboration of all sorts. The Promise of Love, Sex, and Intimacy is a wise, powerful, and easy-to-follow roadmap to a practice that can be life-changing: one that promises to open you up to an entirely new level of human understanding.
Praise for The Promise of Love, Sex and Intimacy
"Indeed a soft message for a hard time. Please read Mark Whitwell's book. God is in this moment. God is as close as your own breath. So be here now! Mark will show you an easy way."
RAM DASS
author of Be Here Now and Still Here
—
"In his book, Mark shares the importance of breathing to energize ourselves. Breathe and let go. Read this book!"
DEEPAK CHOPRA
author of Spiritual Solutions: Answers to Life's Greatest Challenges
—
"Inhale the wisdom of this book, and exhale its practices into the sacredness of your everyday activities."
MICHAEL BERNARD BECKWITH
author of Spiritual Liberation, contributor, The Secret
—
"As your breath wanders, so does your mind, as your mind wanders, so does your breath. Now in seven simple minutes you can transform your breath, your mind, your love, your intimacy and certainly your sex life."
DR. JOHN DEMARTINI
author of The Heart of Love, contributor, The Secret
—
"Mark Whitwell offers readers a sensitive and very inspiring approach to a topic that matters to everyone. This is a lovely book."
CAROLINE MYSS
author of Anatomy of the Spirit
—
"Whitwell's teachings are a path not just to greater intimacy in relationships, but also to a greater intimacy with all of life."
LARRY DOSSEY, M.D.
author of Reinventing Medicine
—
"Seven minutes to a new you! Kudos to Mark for this intimate step to Love and Sex! Intimacy and sex should indeed be synonymous."
NORMAN SHEALY, M.D.,PhD
author of Energy Medicine
—
"Mark Whitwell is underpromising with the title of this book! Love, sex and intimacy are the outcome of the greater result of practicing The Promise. Awakening to your own wonder is at the root of all these. This is not a book just to read, but to practice!"
ALENJANDRO JUNGLER, M.D.
author of Clean: The Revolutionary Program to Restore the Body's Natural Ability to Heal Itself (New York Times Best Seller)